Fueling During Mountain Bike Rides
Do you ever wonder what you should eat during mountain bike rides to feel your best? Unfortunately, nutrition tends to be an industry filled with fad diets and the latest "super" food; sometimes, it can be overwhelming to know what to do with all the information out there.
During a bike ride, carbohydrates are the most important macronutrient you require. Some fat and protein are okay for satiety and keep you fuller longer. But try not to overdo it. Too much fat, protein, and fiber can cause stomach discomfort while exercising. For example, a protein bar would sit heavily in your stomach, or a bunch of raw vegetables would take much too long to digest.
Carbs are essential for your muscles to perform optimally. A good rule of thumb is to try to eat something about every 45 minutes during your ride.
If you are more of a number person, aim for 30-60 grams of carbohydrates per hour. Avoid going over 90 grams per hour because research shows you can't digest and absorb more than that. Look at your food wrappers to see the grams of carbs or Google foods you are unsure about. Fun fact: bananas have about 30 grams of carbs. Keep in mind; you only need to be concerned about eating on rides over 1.5-2hrs or during more intense rides.
Easily digestible, simple carbs with less fiber are your friend on bike rides. Some people prefer what they call "real" food in a more natural form, such as bananas, dried mango, or dates. Others prefer peanut butter and jelly sandwiches, pretzels, or granola bars. If you have a sweet tooth, bike rides can be a good time to satisfy this with foods like jellybeans, gummy worms, or Swedish fish. You could also have specific sports food like bars, gels, chews, blocks from any of the numerous ride/sport food companies out there. A couple of my personal favorites are leftover pancakes from breakfast with peanut butter and jelly or homemade granola bars (see recipe below).
In general, pack what is easiest for you to eat on the trail and most appealing.
Try to have a few bites when you stop to take a break or wait for friends. Try to eat before you are ravenous to stave off the bonk. No one enjoys bonking, and regularly eating will help you ride your best. Fueling well will also help you feel better on the second day if you ride back-to-back days. So on your next bike ride, have fun experimenting with which carbs are your favorite!
The base of these bars are oats which are highly nutrient-dense and provide primarily carbohydrates, some fiber, and protein, along with several vitamins and minerals, making them perfect for bike rides! The hemp seeds in these bars provide some healthy fats as well. Recipe adapted from Oh She Glows.
Yield: 14-16 bars
1 ½ cups (360 g) mashed ripe banana (about 3)

1 teaspoon (5 mL) pure vanilla extract

2 cups (200 g) gluten-free rolled oats

½ to ¾ cup (60 to 90 g) dried cherries, cranberries, or blueberries, to taste* 

½ cup (50 g) walnuts, chopped 

½ cup (75 g) sunflower seeds 

½ cup (80 g) pepita seeds 

½ cup (60 g) sliced almonds 

¼ cup (35 g) hemp hearts 

1 teaspoon cinnamon 

¼ teaspoon fine sea salt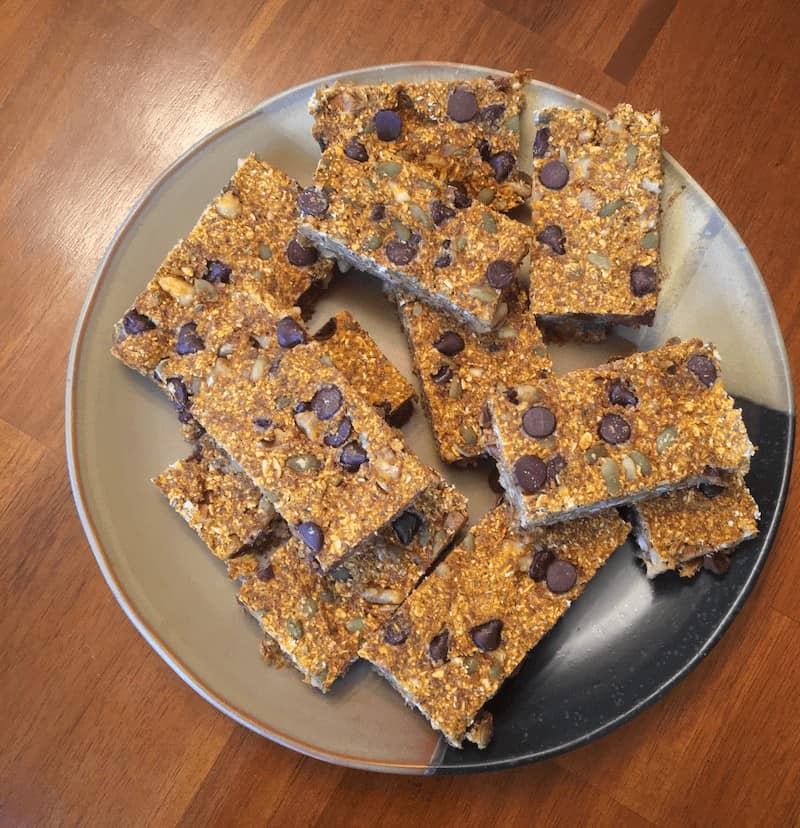 Preheat the oven to 350°F. Lightly grease a large rectangular baking dish (approximately 9″ x 13″) and line with a piece of parchment paper (with overhang), so the bars are easier to remove. 

In a large bowl, mash the banana until smooth. Make sure you have 1 1/2 cups (if you have extra mashed banana, you can freeze it for a smoothie). 

Stir in the vanilla. 

Place the oats into a food processor (or blender set on the lowest speed) and pulse until the oats become coarsely chopped (but still have lots of texture). Next, stir the chopped oats into the banana mixture until fully incorporated. 

Stir the dried fruit, walnuts, sunflower and pepita seeds, almonds, hemp hearts, cinnamon, and salt into the banana-oat mixture until thoroughly combined. The dough will be very heavy and a bit wet.

Spoon the mixture into the prepared dish. With lightly wet hands, smooth out until even and uniform. Press down on the dough until compacted. 

Bake for 22 to 26 minutes, until firm and lightly golden along the edges. 

Place the dish on a cooling rack for 10 minutes, then carefully slide a knife to loosen the ends and gently lift out. Place the slab on a cooling rack until completely cool. 

Once cool, slice into bars. I like to use a pizza slicer as it easily cuts through the dried fruit and nuts. Leftovers can be wrapped up and stored in the fridge for a week. Or you can keep them in the freezer for 4 to 6 weeks.
Tip:
You can omit the dried fruit and sub in chocolate chips (or add a mix of both).
These bars aren't super sweet, so if you prefer something sweeter, you may want to add a touch of sweetener like honey or maple syrup. 
I have also subbed canned pumpkin for the mashed banana, which turned out great as well! 
Emily Werner
Emily is a Sports Dietitian who is passionate about helping others improve their health and athletic performance through proper nutrition. She races cyclocross professionally. She lives in Roanoke, VA with her husband Kerry and their beagle Sherman.
Get the email for busy mountain bikers.
Discover the best products + gear, and learn about deals from brands you love.