Review: Airshot Tubeless Tire Inflator
Do you run tubeless tires yet? If you're like me and handle a lot of your MTB maintenance on your own, having the right tool for the job is a must. Unfortunately, when it comes to tubeless setups, you can't live without air compression during the seating process. So, after using a few different products, here's my Airshot tubeless tire inflator review.
Pros
Fairly compact device that's good for travel
Sturdy construction
Great compression and powerful enough to seat MTB tires
Cons
A bit pricer option compared to others
It's a seperate tool and not integrated into the pump
---
Consider buying if...
You need an excellent travel-size compressor– this is a small, powerful option to consider
Airshot is a rider-owned and operated company passionate about the cycling industry and believes that helping riders achieve their goals is important. Born in South Wales, where its designer searched for an easy way to seat tubeless tires, Airshot gives you powerful air compression without the need for a compressor. Its minimal casing can be packed (decompressed) in a backpack for travel or race day and carried efficiently alongside your track pump.
Why you need fast air compression
Occasionally, the beads can be seated using a floor pump when mounting tubeless tires. It differs quite a bit based on the tire style, wheel type, and rim tape. More stubborn tires require more consistent, higher-pressure air to seat the beads. Professional techs use compressors to seat tires. That fast air compression is the best way to "pop" your tire beads onto the rim.
Using the Airshot is easy and safe when you follow the recommended instructions:
To inflate the Airshot, use a standard track pump or a mini-pump. For safety reasons, a compressor is not recommended. 

Once the pressure is around 130psi (Max 160psi), screw in the Airshot valve onto your tubeless presta valve. 

Next, turn the blue lever on the Airshot to release the high-pressurized air into your MTB tires.
If you have more stubborn tires or used tires with sealant on the beads, you may need to repeat the steps above. Also, you'll want to secure the Airshot while pumping to keep it from moving during pressurizing. To get this thing to proper high pressure, you'll have to lean into your last few pumps!
Airshot
$63.99
0
Airshot has been developed to enable hassle-free inflation of tubeless tires without the need for a compressor.
Buy Now at Airshot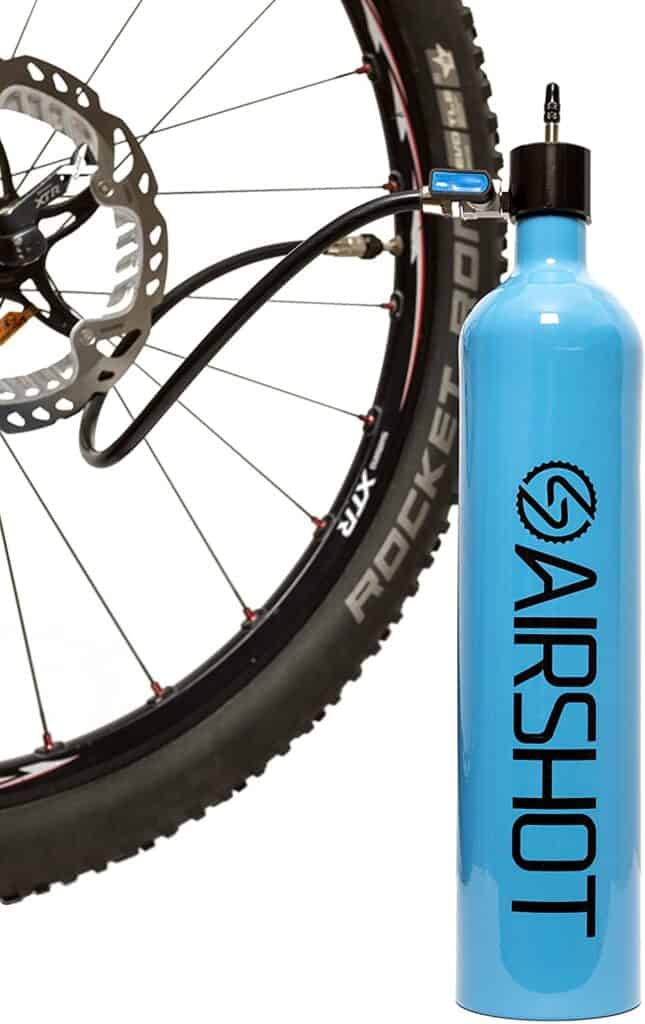 While I've only tested this on one set of tires so far, the construction of the Airshot is sturdy, and the finish of the product is top-notch. It should last a long time and help with several tubeless tire installations. The product is a bit pricer than some others on the market, but it works well and is worth the extra few bucks. It is a cheaper option than a larger compression pump. Also, if you need an excellent travel-size compressor, this is a small, powerful option to consider.
Jeff Corey
Mountainly CEO, developer, and content shuffler. Also, owner Visual Soldiers – A digital agency in Atlanta. When I am not learning about mountain bike products, writing reviews, or enriching my entrepreneurial spirit, you can find me on the trails throughout Georgia riding my Trek Fuel.
Get the email for busy mountain bikers.
Discover the best products + gear, and learn about deals from brands you love.