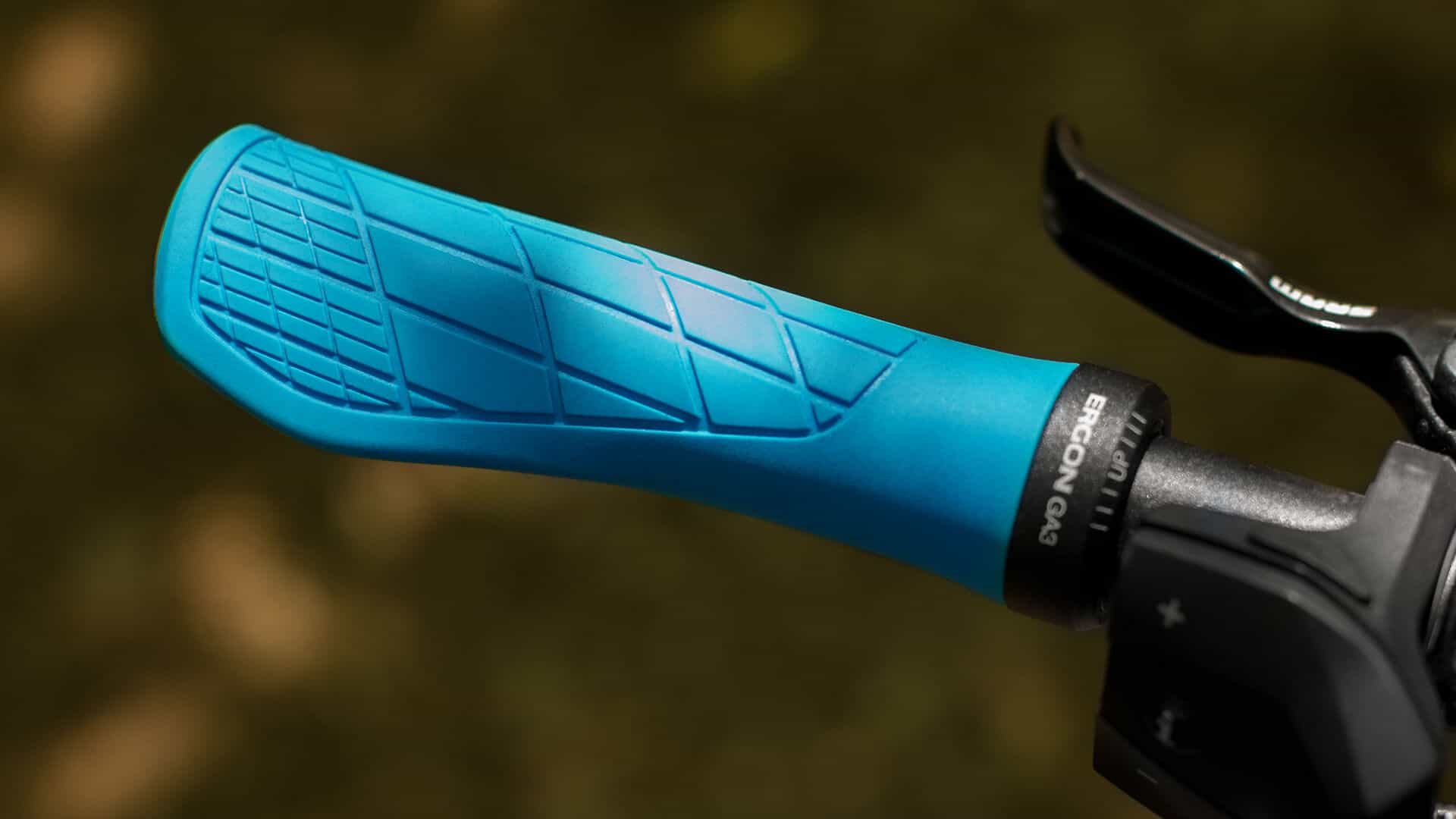 Photo by Ergon
Ergon GA3 grips offer relief for hand pain while retaining shreddability.
There, review over; simple dimple 😉. For more detailed thoughts, keep reading.
I started riding in earnest in 2001, which means my hands have endured more than 20 years of cycling over tens of thousands of miles. Downhill, cross-country, cyclocross, road, and bikepacking have left my 33yr old hands feeling much older than the rest of me.
Pros
They offer relief for hand pain
Supporting wing on the grip makes a massive difference in ride comfort
The grip offers high quality material and sturdiness
Cons
Wing on the grip can be a bit large for smaller hands
The rubber is extremely firm and could be uncomfortable if you're used to softer foam material
---
Consider buying if...
You're looking for a comfortable grip at an affordable price that solves most hand pain from riding.
Hand pain is something I've been wrestling with but mostly ignoring for a few years. I spent a few years proselytizing the gospel of push on grips. But while an all rubber grip helps, my hands still ached. Recently I've been preparing for the Cohutta 100. My mileage has gone up significantly, and my hands hurt at the end of long rides enough for me to limp down the final descents while gritting my teeth. Like most of my ignored medical issues, it was long past time for me to search for a better solution.
Enter the Ergon GA3 grips. While offensive to fashionistas, the supporting wing on the grip makes a massive difference in ride comfort and ultimate control. The larger surface area spreads out my weight over a larger and meatier portion of my hand. Sometimes while I'm reading in bed, my cat will come and stand on me and demand more food. Even though he is only 14 pounds, his tiny paws feel disproportionately heavy on my chest. The larger surface area of the grip solves this same problem. These $28 grips have quickly become mandatory equipment on my bikes.
The rubber Ergon has chosen to use is appropriately firm. Anyone who's ridden ultralight foam grips knows that softness does not equal comfort. Picture punching a table through a stack of tissues versus through a rubber mat. The rubber mat, with more firmness, will protect your hand better. The GA3 uses a single clamp on the inboard side of the grip, and a thin plastic core runs throughout the grip to keep it from twisting. This plastic core makes most lock-on grips less comfortable than their push-on counterparts. But in the case of the Ergon GA3 grips, the ergonomic wing has more than made up for the slight reduction in rubber.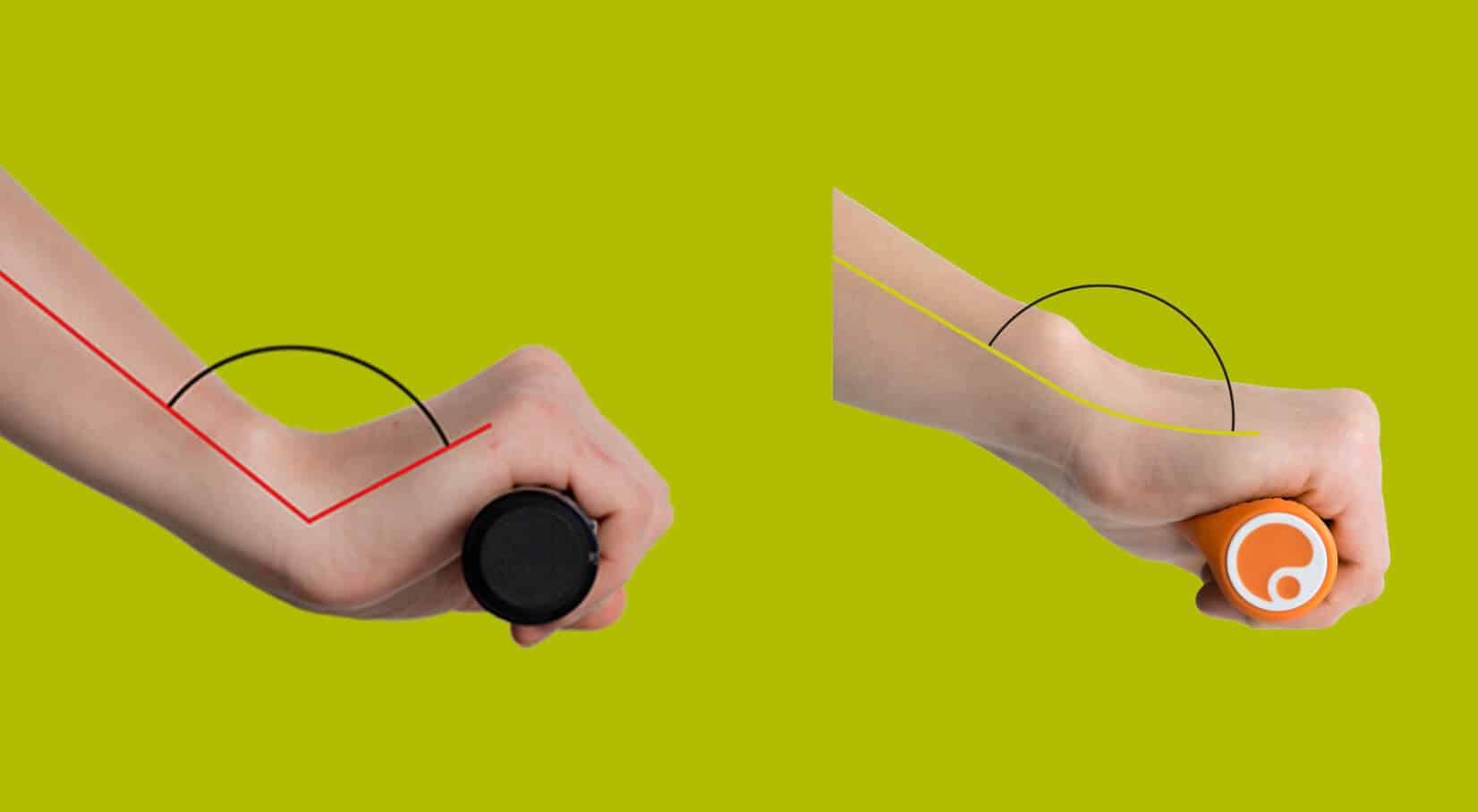 Hand pain handlebar adjustments
Another adjustment I've used to try and address hand pain is the sweep of my handlebars. Sweep is the measure of the bars' angle in a horizontal plane. Most mountain bike handlebars have between 8 and 10 degrees of sweep. SQLab, Salsa, Answer, Soma, and others offer handlebars with a dizzying array of sweep options between 8 and 25 degrees to put your hands and wrists in a more natural position. In my experience, bars between 12 and 25 degrees of sweep offer remarkably improved comfort but can feel unnatural while descending technical terrain. Maybe the handling will become more intuitive with more time on highly swept bars. I fabricated my own bars for more experiments. Watch this space for updates.
The wing on the Ergon GA3 grips allows my hand to pivot and rest in a more highly swept position, making my boring and normally swept RaceFace SIXC bars feel more highly swept when advantageous. Additionally, my palms are supported while descending, allowing my outer fingers to curl under the grip to enable natural handling.
The Ergon GA3 grips have only benefited my riding experience, more comfort with no drawbacks. My gritted teeth have transitioned back to smiling. 10 out of 10 weary metacarpals recommend the Ergon GA3.
Peter Haile
Whether pushing his limits on technical trails, seeing what's around the next corner, or tinkering in his shop; Peter enjoys life to the full. In addition to bikes, he enjoys frame building, graphic design, and math. He lives in Asheville, NC with his wife and son.
Get the email for busy mountain bikers.
Discover the best products + gear, and learn about deals from brands you love.