Staff Rides: Peter Haile's Custom Titanium Hardtail
My current stable of bikes is as eclectic as it is functional. In addition to the custom titanium hardtail I'm highlighting today, I ride a Pivot Firebird 29, two cyclocross bikes, and an old Brisa mod trials bike.
In my spare time, I build frames in my garage shop. Of the nine frames I've made, three are gravel bikes, and the rest are hardtails. One of the things I quickly realized about the frame building process is how long it takes to get it right. It is a miracle of the modern economy that factory bikes are as cheap as they are. I've been TIG welding for around two and a half years in the evenings, and I'm just now getting to the point where welding isn't the scary part of frame building.
My wife and I just had a little boy four months ago; therefore, I'm finding my available time for my hobby frame building is limited. However, I aspire to start a small bicycle company focused on the technical up and down riding that I enjoy in Western North Carolina. This bike is a prototype of sorts, and I'll talk about what I love and what I would change about it below.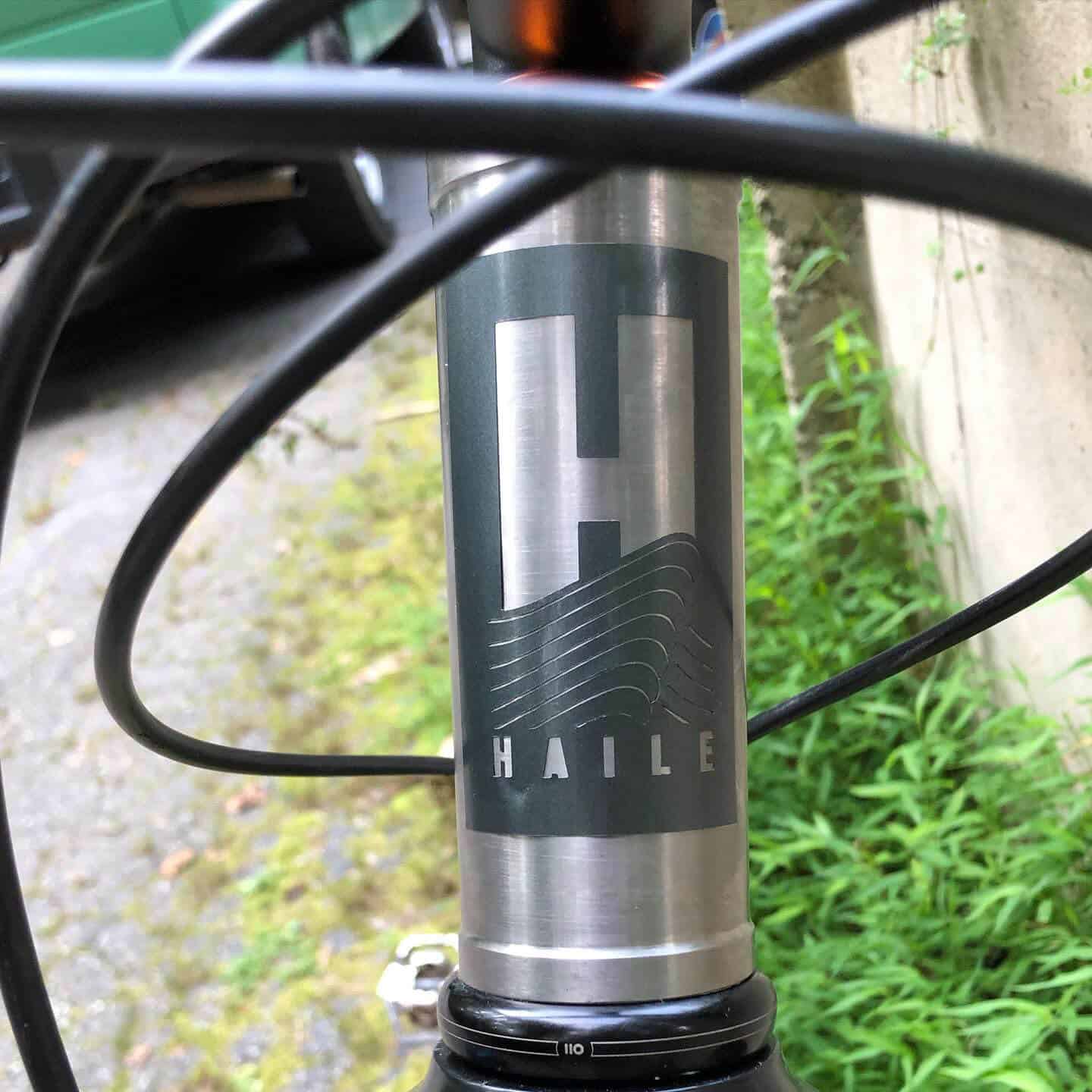 I drew up my design with CAD and sent it to a titanium manufacturer in Asia. The custom titanium hardtail frame arrived a few months later, and I inspected it on my jig and alignment table for accuracy. Honestly, it's of higher quality and tighter tolerance than I can do in my garage with my current skill set. I am so impressed.
The goal was to design a custom titanium hardtail I wanted to ride, as I'm a huge fan of full suspension bikes and generally would choose a full suspension bike nine times out of ten for any given trail. One problem I have with hardtails is when you hit bumps, the suspension compresses and makes the geometry steeper and scarier. On the other hand, I also appreciate full suspension bikes for the traction and efficiency they give you over rough terrain. Could I address these concerns with my hardtail design?
With a 485mm reach, a 64 degree HT angle, a bottom bracket drop of 68mm, a 450mm chainstay length in the shortest position, and a 76.5 degree seat tube angle, the frame is a considerable departure from the hardtails of the past. Coming off a more traditional hardtail, this bike is a limousine. It's really long and comes with its own set of advantages and disadvantages.
The Bike Carves Graceful Arcs
Over the last few months, I've ridden the bike a few dozen times and can now review it with some experience. Instead of feeling twitchy, the bike carves graceful arcs. Instead of unpredictable traction, my weight is consistently between the wheels. It's very easy to ride. My weight constantly felt balanced between the wheels as a result of the long chainstays. Most bikes these days (especially hardtails) have heavily skewed rearward weight bias, and the front end often washes out as a result. Are there disadvantages to the length? Sure, it's a lot harder to wheelie, and pumping through a rhythm section is a little less direct.
When the terrain tilts skyward, the bike feels very natural. I no longer feel the need to sit on the nose of my saddle to keep the bike from looping out. My spine feels much healthier. It feels extended and strong instead of curled and weak. A healthy spine is probably the most significant advantage of a relatively steep seat tube angle and corresponding long front center; my body feels like it's in a position to work well. Similar to how a weightlifter uses the correct form to be safer and more powerful.
The steep seat tube angle is a little too steep for flat terrain but feels amazing any time the trail tilts upward. A steep seat tube angle also helps the dropper post function well for longer, putting less stress on the bushings.
I run 16 psi in 29″ Maxxis Dissector 2.6″ tires with Cushcore Pro. With tires this large and soft, traction on the bike is impressive. In addition, the steep seat tube and great traction help this bike scamper up even the roughest climbs with relative ease.
Descending on this custom titanium hardtail feels very stable and predictable. What I wrote about good weight balance between front and rear above makes a big difference when descending. Hardtails don't have as much traction as suspension bikes, so making sure you're making the most of the traction you have is vital. Jumping over the really rough bits is the name of the game to be smooth, but this bike is stable enough it'll roll through the rough if your ankles can handle it. The reality is sometimes my ankles can't handle it, and my ankles cry out for mercy. It helps if I can keep my body strong and mobile. If my body gets tired, I end up riding rigidly and taking a lot more hits instead of floating over the ground.
Life is pain highness, anyone who tells you different is trying to sell you something.
Compared to my Pivot Firebird 29, a modern marvel of a bike that eats rough terrain with a voracious appetite, the hardtail is more painful and slower when it's REALLY rough. On the other hand, I recently got to ride the well-respected Specialized Epic Evo, and it's a more even match in terms of capability, even though both bikes get their capability from very different places.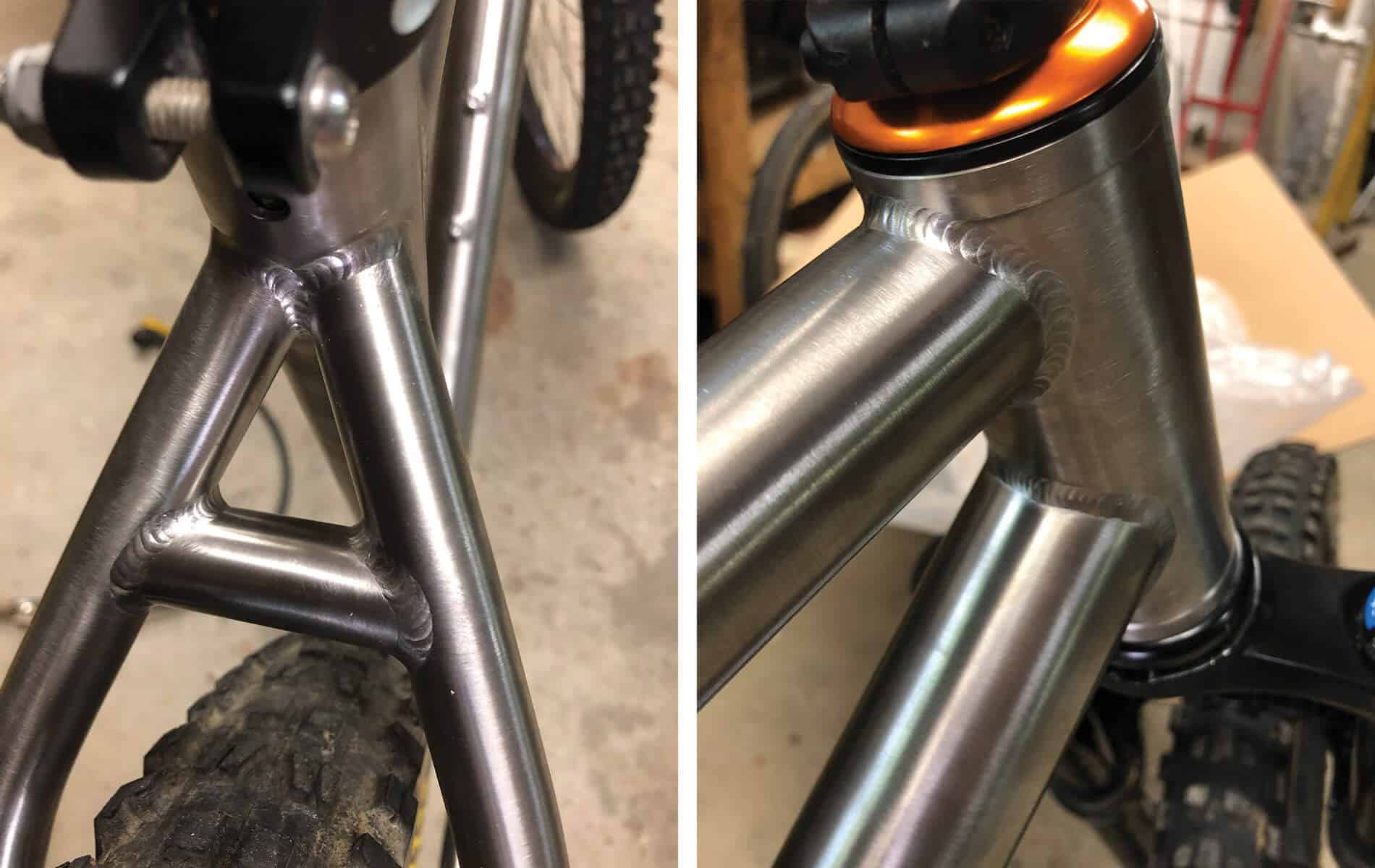 On flat terrain, the steep seat tube puts a lot of weight on my hands. The 64-degree head tube angle and the bike's overall length also make front wheel pivots less intuitive. If the corner is of sufficient radius to keep the wheels on the ground, the bike corners with aplomb, but when the switchbacks tighten to the point where nose pivots are necessary, the size of the bike becomes unwieldy.
The production frames will also have a shorter headtube and a lowered top tube for slightly more stand-over clearance. Also, the seat tube bottle mount will be lowered about an inch to allow more vertically challenged people to run long travel dropper posts.
All frame design is a compromise. For the type of riding I like, this frame is extremely well matched. If you don't enjoy or don't have technical trails near your home, there will be bikes that better meet your needs. On the other hand, I love having a low-maintenance rig for bad weather days or for days where I'm expecting to cover a lot of distance over rugged terrain. This is the most capable hardtail I've ever ridden, but it does come at the cost of easy wheelies and nose pivots. Maybe in a few more months, I'll have adjusted my technique, but for now, I've got more work to do.
Peter Haile
Whether pushing his limits on technical trails, seeing what's around the next corner, or tinkering in his shop; Peter enjoys life to the full. In addition to bikes, he enjoys frame building, graphic design, and math. He lives in Asheville, NC with his wife and son.
Get the email for busy mountain bikers.
Discover the best products + gear, and learn about deals from brands you love.