What Is The Best Age To Start Mountain Biking?
Before discussing the best age to start mountain biking, I first want to state that there is no wrong time to start mountain biking. Whether you're 5 or 85, beginning to ride on the trail is always a great idea. That being said, some great periods in life make learning how to mountain bike that much easier on your body, wallet, and family.
The first of these periods is around 16-24, or roughly your high school and college years.
This age bracket is probably the best age to start mountain biking. You can undoubtedly start to ride when you're younger. But you probably won't be able to fit on a bike frame with 27.5" wheels, the smallest size you generally see on the market these days. Riding gravel or some easier trails on a mountain bike with 26" wheels (or smaller) is a great idea. Still, large climbs or hard descents with technical features usually require a more mature body and bike frame.
Another reason why the 16-24 age group is such a prime time to learn how to ride is that you can learn balance and how to adjust to the feel of riding while your body matures. Balance and body control are much harder skills to learn later in life, especially in mid-life when most people start packing on pounds—learning how to carve through a trail and flow while still young will make you a great mountain biker for life. I'm astounded today how my friends who rode BMX early are much better bike handlers than me, although I'm usually in better shape from a cardio and strength perspective.
Finally, if you are in high school or college, chances are your parents are taking care of most of your bills, freeing you up for more disposable income and time to give to a hobby. Mountain biking is expensive and only gets more costly as you improve. If you can work a summer job and buy a great bike while you are still a teenager, it will serve you well through your early twenties and beyond. Purchasing an expensive bike only gets harder in life as more and more diversions and people compete for your time and money.
All New
2022 Trek
Supercaliber 9.9 XTR
0
Supercaliber 9.9 is the fastest, lightest, and most capable cross country race bike we make—and that's exactly why it's Trek Factory Racing's World Cup bike of choice. The exclusive IsoStrut top tube shock is the cornerstone of Supercaliber's efficient suspension system, giving you a fast and light ride that charges through rugged terrain at breakneck speed.
View Bike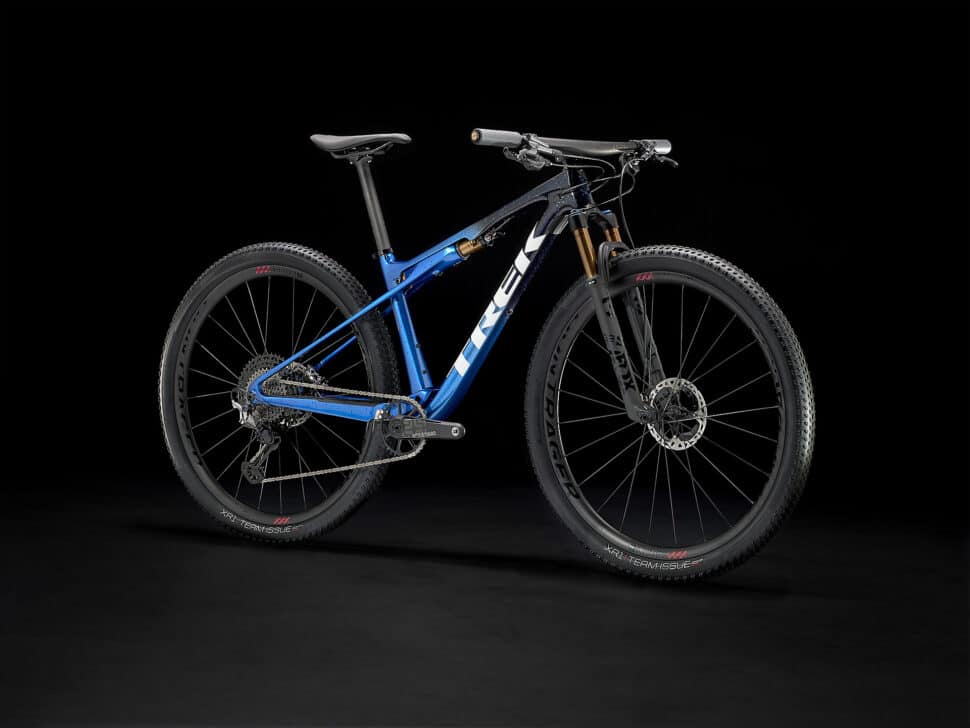 The other age period that I've found suits for an excellent introduction to mountain biking is during the mid-life stage, or ages 35-50.
Many new mountain bikers find the sport later in life when looking for new challenges or ways to enjoy the outdoors. Although it's a bit harder to learn how to handle a mountain bike, decent strength and aerobic fitness will allow you the opportunity for long-duration rides on more challenging trails. Also, you've probably worked a bit and are more established in your professional role, freeing up more time and money for hobbies. Finally, riding culture is way more fun to enter as an adult since drinking beer usually goes hand-in-hand for most riders after a long day on the trail.
If you want to start mountain biking but aren't in the 16-24 or 35-50 age group, start anyway!
I truly committed to riding in my early 30s after my first kid was born, and though I wasn't able to get out on the trail as much as I wanted to or buy the most expensive bike, I loved learning how to ride and experience a new physical and mental challenge. Still, there are times I wish I had bought my first mountain bike after my first ride when I was in college so I could have learned to handle my bike much better at an earlier age.
If you are in the "sweet spot" age group for learning how to ride and have considered trying to learn, then go for it!
Rent a bike at a local bike shop or outfitter and get on the trail to see how it feels. Mountain bike culture is just as awesome as the riding itself, and there are no limits to the number of riders that can enter the sport. We need more riders and people out in nature taking care of their bodies and preserving our open spaces. So check out some of the bikes on Mountainly and get out to the trail to learn. Even though you may crash at times, you'll probably learn quickly and be a seasoned veteran in no time.
Matthew Chisholm
Matt Chisholm is a data analyst and freelance writer who studies the environmental history of the Southern Smoky Mountain region of North Carolina. He was a contributor to Lost in Transition: Removing, Resettling, and Renewing Appalachia and the 2016 edition of the Journal of East Tennessee History, for which he won the 2017 McClung Award. When not writing, Matt enjoys road and mountain biking, hiking, trail running, and drinking beer around Concord, NC where he lives with his wife, daughter, and twin boys.
Get the email for busy mountain bikers.
Discover the best products + gear, and learn about deals from brands you love.