Weekday Meal Planning For Mountain Bikers
Are you typically in a rush during the week? Do you dash from work to squeezing in a mountain bike ride and then have no idea what to make for dinner? Here are some tips and ideas for weekday meal planning for mountain bikers to ensure you can make a delicious, quick, and nutritious dinner.
Most people like to use the weekend to relax, go for long mountain bike rides with friends, sleep in, and don't want to think about meal planning for the week ahead. However, planning ahead can reduce the trips to the grocery store and ensure you are well prepared for the week. Choose some recipes you want to make for dinner, create a shopping list, and pick a day to shop. Don't go to the store without a plan because you will end up wandering and not buying everything you need.
Look through cookbooks or go online to get ideas about what you want to make before going to the store. Don't be afraid to try new recipes to mix the week up but also incorporate some favorite recipes you have made before to simplify things.
It can be helpful to begin prepping Monday and possibly Tuesday's dinner on the weekend. This doesn't have to be major; it can be as simple as chopping veggies and making sure any meat you may have frozen is thawing in the refrigerator. Furthermore, many appliances on the market speed up the cooking process, like an instant pot.
Keep a Well-Stocked Pantry
Stock your pantry with essentials like spices and canned foods you often use, such as beans and olive oil. Doing this will limit extra trips to the store for basic ingredients.
Double Recipes and Eat Leftovers
While most people don't like to eat leftovers for days on end, try to eat the same thing for two nights in a row. Double or even triple (if you have a big family) a recipe so that you don't have to cook at all the next night. If it doesn't get eaten in two nights, you can use the leftovers for lunch the next day. Or, if you decide you don't want the leftovers, you can freeze most of them for another night. Also, when cooking something like chicken, cook extra so you can use it for different meals on multiple nights.
You don't have to cook from scratch every night. It is okay to buy some prepared foods or meals. It's also a nice backup and cheaper than take-out. For example, Trader Joe's has some good frozen dinners. When shopping for prepared dinners, read the ingredients. Avoid it if the list is extremely long and you have never heard of ingredients. The fewer ingredients and fewer weird words usually mean they are less processed. My favorite quick weeknight meal when I don't have time or feel like cooking is a prepared creamy soup, like butternut squash. I look for ones with less added sugar. I eat this with grilled cheese made on whole wheat or whole grain bread. My favorite is Dave's Killer Bread whole grains and seeds.
Sample Week Night Meal Plan:
Monday: Veggie Black Bean Enchiladas (see recipe below)
Tuesday: Leftover Veggie Black Bean Enchiladas
Wednesday: Chicken, Sweet Potato, and Veggies of choice or side salad
Thursday: Chicken Salad (quinoa, spinach, chicken, avocado, cranberries, dressing of choice)
Friday: Soup of Choice and Grilled cheese
Feel free to mix up the veggies for these enchiladas if you want to try something different. For example, I have used corn and zucchini before. You could also try lentils instead of black beans.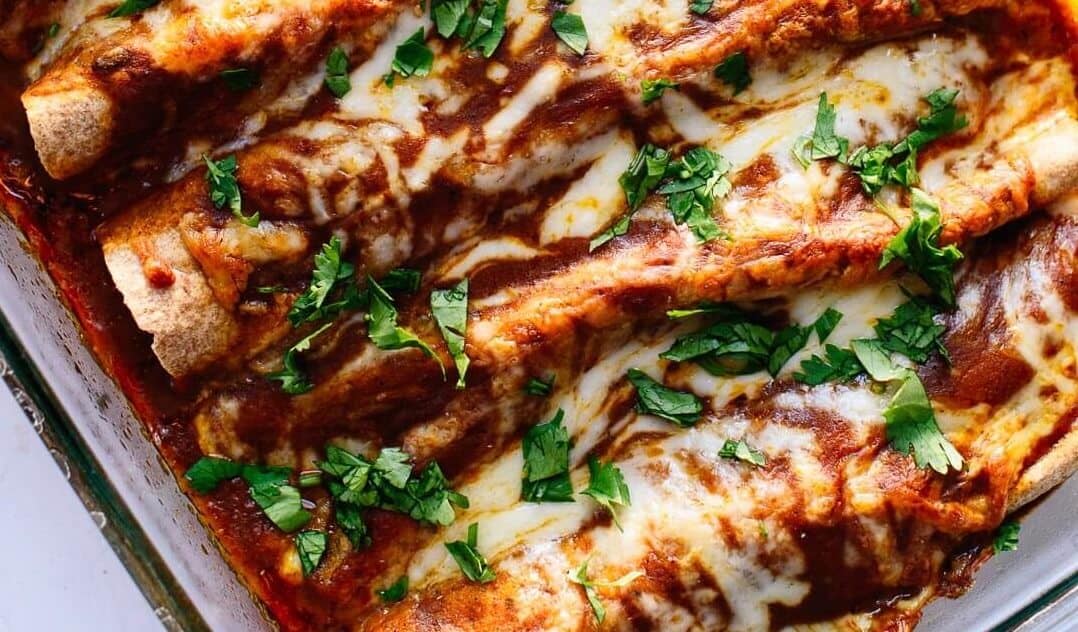 Photo by Cookie & Kate
Ingredients:
2 cups enchilada sauce 

2 tablespoons olive oil 

1 cup chopped red onion (about 1 small red onion) 

1 red bell pepper, chopped 

1 bunch of broccoli or 1 small head of cauliflower (about 1 pound), florets removed, and sliced into small, bite-sized pieces 

1 teaspoon Ground Cumin

1/4 teaspoon Ground Cinnamon

5 to 6 ounces baby spinach (about 5 cups, packed)

1 can (15 ounces) black beans, drained and rinsed, or 1 1/2 cups cooked black beans 

1 cup shredded Monterey Jack cheese, divided

1/2 teaspoon salt, to taste

black pepper, to taste

8 whole-wheat tortillas (about 8″ in diameter)

A handful of chopped cilantro for garnishing 
Instructions:
Preheat the oven to 400 degrees Fahrenheit with one rack in the middle of the oven and one in the upper third. Lightly grease a 13 by 9-inch pan with olive oil or cooking spray.
Warm the olive oil until simmering in a large skillet over medium heat. Add the onions and a pinch of salt. Cook, often stirring, until the onions are tender and translucent, about 5 to 7 minutes. Add the broccoli and bell pepper, stir, and reduce heat to medium-low. Cover the skillet. Cook, occasionally stirring, for about 8 to 9 minutes, or until the broccoli is brighter green and just starting to turn golden on the edges.
Add the cumin and cinnamon to the skillet and cook until fragrant, about 30 seconds. Add the spinach, a few handfuls at a time, stirring until it has reduced in size. Repeat with remaining spinach and cook until all of the spinach has wilted.
Transfer the contents of the pan to a medium mixing bowl. Add the drained beans, 1/4 cup cheese, and a drizzle of enchilada sauce (about 2 tablespoons)—season with 1/2 teaspoon salt and some freshly ground black pepper to taste.
Assemble the enchiladas: Pour 1/4 cup enchilada sauce into your prepared pan and tilt it from side to side until the bottom of the pan is evenly coated. To assemble your first enchilada, spread 1⁄2 cup filling mixture down the middle of a tortilla, then snugly wrap the left side over and then the right to make a wrap. Place it seam-side down against the edge of your pan. Repeat with remaining tortillas and filling.
Drizzle the remaining enchilada sauce evenly over the enchiladas, leaving the tips of the enchiladas bare. Next, sprinkle the remaining shredded cheese evenly over the enchiladas.
Bake, uncovered, on the middle rack for 20 minutes. If the cheese on top isn't golden enough for your liking, carefully transfer the enchiladas to the upper rack of the oven and bake for an additional 3 to 6 minutes, until sufficiently golden and bubbly.
Remove from oven and let the enchiladas rest for 10 minutes (they're super hot!). Before serving, sprinkle chopped cilantro down the center of the enchiladas. Serve immediately.
Emily Werner
Emily is a Sports Dietitian who is passionate about helping others improve their health and athletic performance through proper nutrition. She races cyclocross professionally. She lives in Roanoke, VA with her husband Kerry and their beagle Sherman.
Get the email for busy mountain bikers.
Discover the best products + gear, and learn about deals from brands you love.