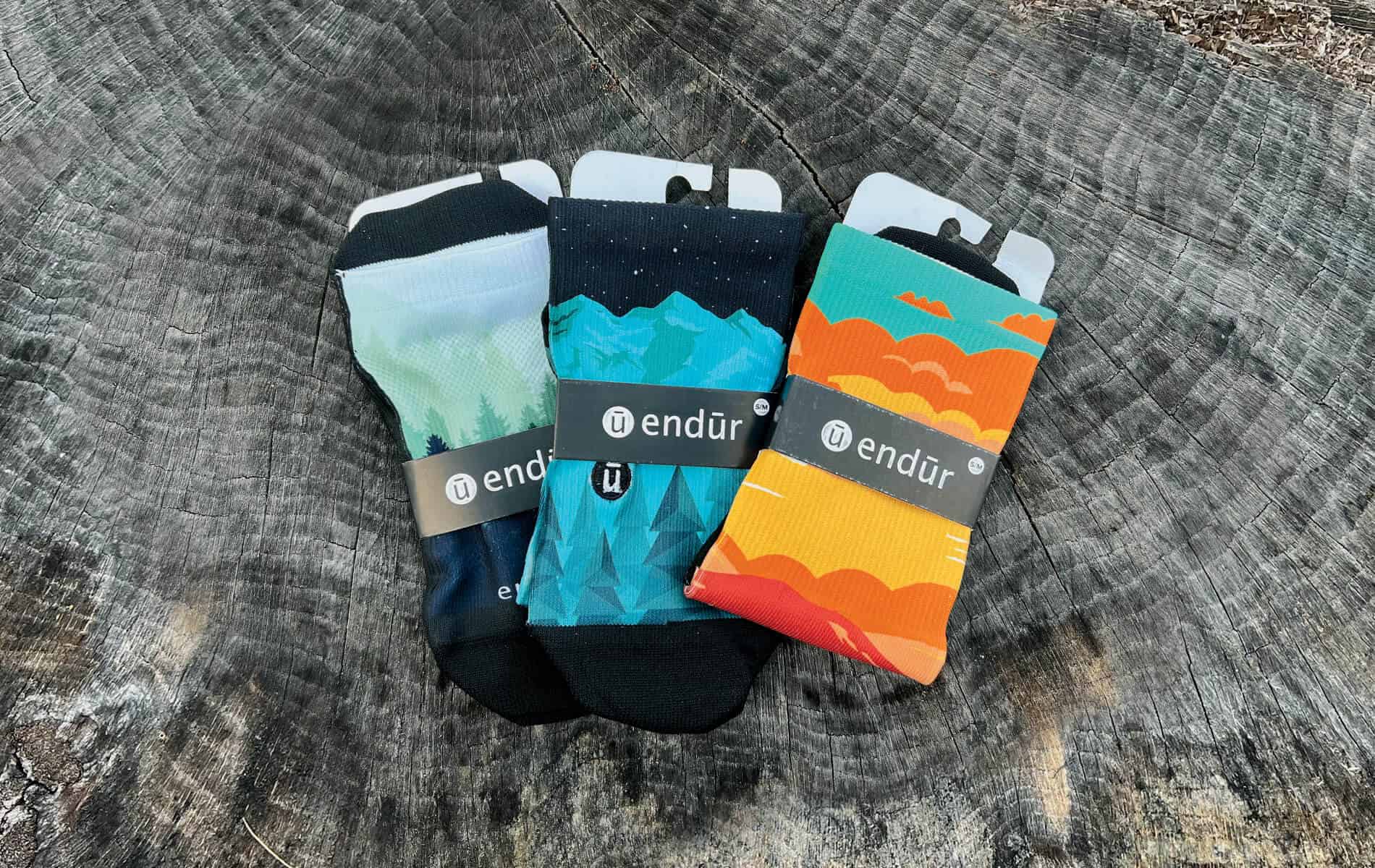 Photo by Mountainly
When it comes to mountain biking and cycling in general, socks quickly go underlooked as the gear you should invest in. Many riders grab a pair of the oldest cotton pair they can find in the back of the sock drawer and ride out until the sunset. Well, at least that was me when I first started mountain biking. But over the past year, I've been adamant about finding the right gear for the task. So, today I'd like to tell you about my experience with Endūr socks. This week, I threw them through the wringer on the trails, and they passed with "custom" flying colors.
These socks performed exceptionally well.
They are perfect for mountain biking and other outdoor activities.
Your feet will stay dry, warm, and cool throughout your rides.
The comfortability is a noticeable difference from other socks I've tried, including wool socks. Your feet will thank you!
Endūr socks have plenty of styles and colors to choose from. If you're keen on design and buy in bulk, you can even create your own.
Even though they are thin, they seem very durable and should hold up well.
Lower than average priced–worth every penny.
Endūr Apparel is all about challenging the limits of what's possible. That willingness is in their name, Endūr–to continually move forward without giving up. Rob Fraser, a five-time Canadian National Downhill Cycling Team member, started the company in 2016 after retiring from pro-competition.
Rob set out to create a brand that would inspire others to never give up in pursuit of their wildest dreams. He recognized a need for a technically advanced pair of socks that would meet the demands of high-performance sport with unmatched comfort and style for all-day use. Thus, Endūr was born.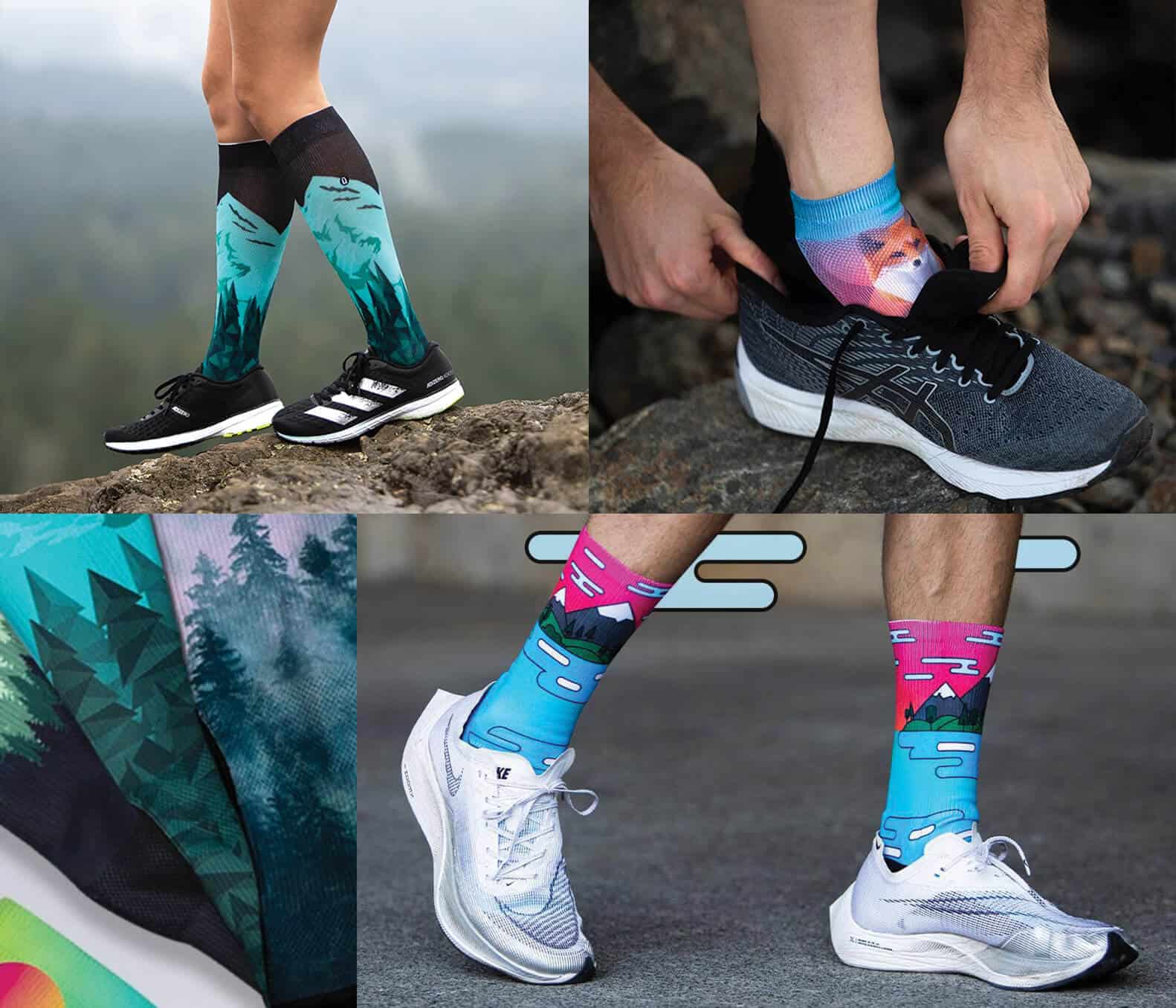 Photos by Endūr Apparel
So why do you need good socks for mountain biking? It's simple, for comfort. Endūr socks use moisture-wicking technology with venting mesh material. That means your feet will stay dry, warm, and cool throughout your rides. So, no more walking around with the uncomfortable soggy shoe when you're off the bike.
The design includes a Y-stitch heel with a seamless toe and arch support. There's nothing more annoying than having to stop and fix your socks or pull them away from your toe because of a seam. The arch support isn't a significant feature, but the Endūr sock contours to your feet and doesn't leave folds or creases.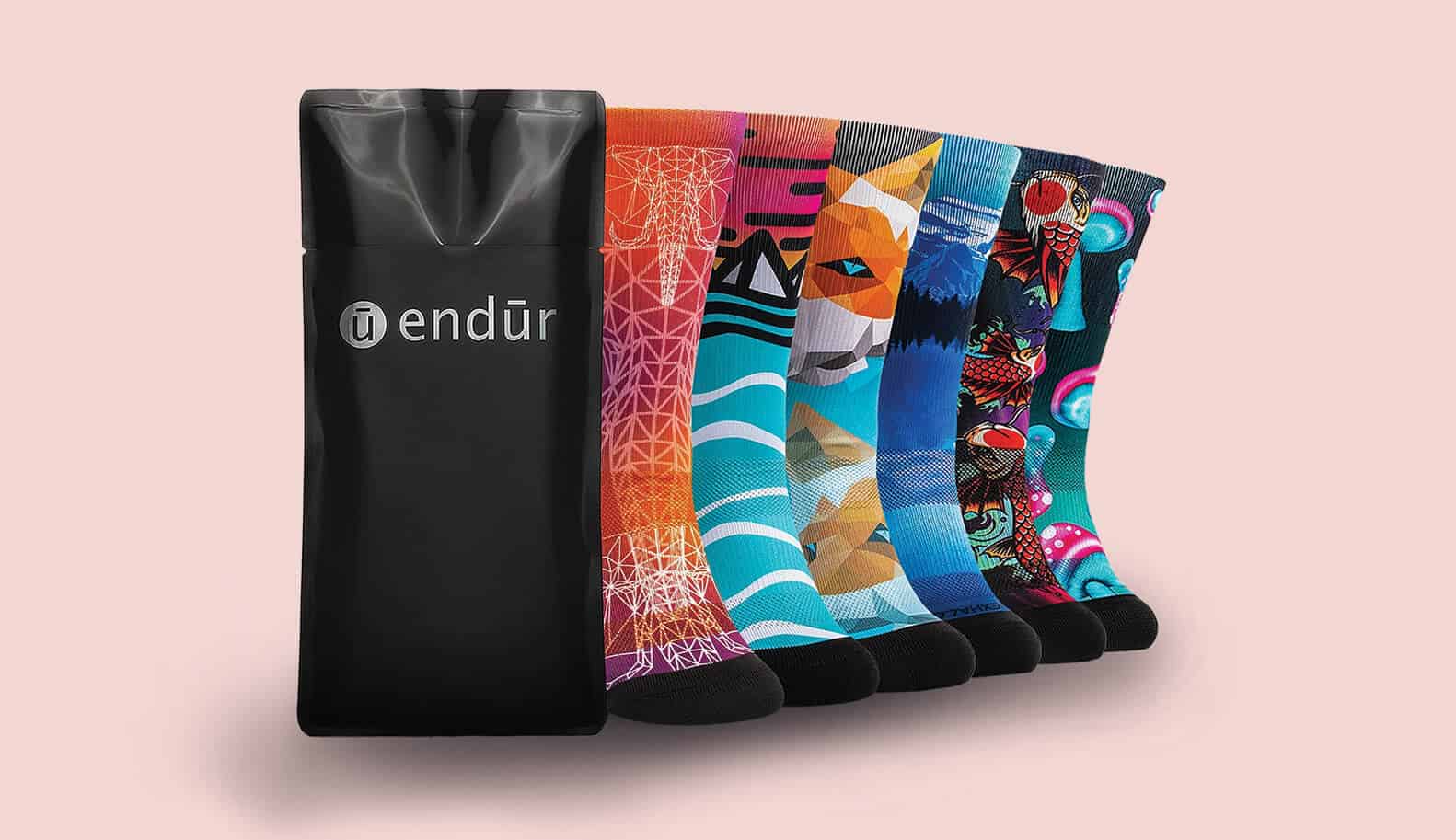 Photo by Endūr Apparel
Style is everything for most mountain bikers. We customize everything, from the tiniest bolts on our bikes to grips, pedals, mudguards, stickers, and more. So having plenty of bold-looking socks to choose from allows us to individualize further and make a statement on the trail. The performance socks come in three height styles: Ankle, Crew, and Over-Calf sizes.
Endūr socks come in a variety of bright and dark colors, patterns, and styles. You can see them all here. In addition, if you're a brand or business buying in bulk (60 pairs minimum) and a fan of the creative process, you can create your own socks at Endūr Custom.
Endūr socks have the perfect fit. They're not too big in the toe, and the crew height stayed up just below my calf during the whole 2-hour ride. During a big climb, I specifically remember thinking how comfortable my feet felt. That is not something I generally think about on rides. The Endūr website has 1500 + reviews at the time of writing this article, and most of them mention the level of comfortability that these socks provide. So, don't just take my word for it.
Although I've only ridden in these twice thus far, the material seems durable enough to last a while of hard riding. After the second ride, I had one tiny pull in the fabric because my sock got stuck on my flat platform pedal screws. However, the material recovered well with only a small stitch. I should know more in a few months of riding in these, but my first impressions are solid.
I give these socks a 5-star rating for comfort, style, and performance tech. They will enhance your trail rides by keeping your feet happy. If you're the type of person who doesn't believe socks can make a difference in your comfort level while mountain biking, I think you should consider giving Endūr socks a try. Worst case, you can add them to the back of your sock drawer or use them to clean the top of your dresser in style.
Jeff Corey
Mountainly CEO, developer, and content shuffler. Also, owner Visual Soldiers – A digital agency in Atlanta. When I am not learning about mountain bike products, writing reviews, or enriching my entrepreneurial spirit, you can find me on the trails throughout Georgia riding my Trek Fuel.
Get the email for busy mountain bikers.
Discover the best products + gear, and learn about deals from brands you love.