Home Bike Shop Essential Tools
I bought my house because of the detached garage. It's a beautiful space with a faux slate roof, heat, air conditioning, water, and lots of light and power. My lathe, knee mill, and TIG welder are the crown jewels of the shop, hiding possibility and precision not revealed by their age and patina. Beyond the thousands of pounds of cast iron in my shop is an eclectic collection of bike tools I've acquired over 20 years of wrenching on bikes. So you could say I know a thing or two about setting up a home bike shop.
Do you need a home bike shop?
While not everyone needs a shop full of big machines helpful for making frames, every mountain biker should have enough tools to perform basic and routine maintenance on their bike. There are many cheap bicycle tool kits available, but almost all of them are made of soft cheap steel alloys and include many tools you'd only use on your grandpa's 1975 Schwinn.
My advice is to buy the quality tools you need a piece at a time.
If you already spent thousands of dollars on your bike, it doesn't make sense to ruin your parts with a tool that saved you five bucks. So here are the essential tools you'll need to set up your home bike shop and keep your bike from needing significant repairs a little bit longer.
It's amazing what you can accomplish with just a set of metric hex keys. I really like this set of Bondhus Wrenches. They're colored for easy identification and made of hardened tool steel, meaning they'll last for ages.
Bondhus 69499 Ball End L-Wrench Set w/ColorGuard Finish
0
Colored for easy identification and made of hardened tool steel. Includes sizes: 1.5, 2, 2.5, 3, 4, 5, 6, 8, and 10-millimeter.
Check price at Amazon
Links may earn us a small commission at no cost to you.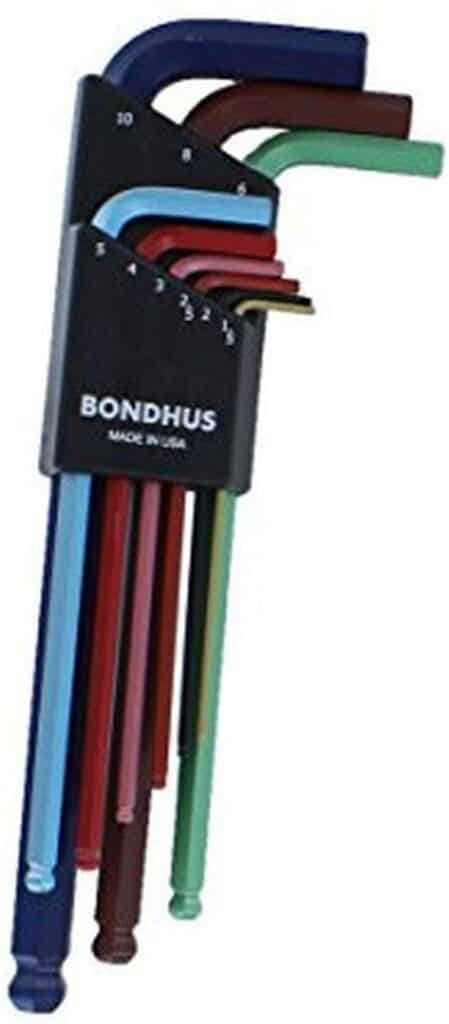 The star pattern of torx is highly resistant to stripping and gives your wrench a secure purchase with the bolt. Torx bolts are becoming more ubiquitous in the cycling industry, and I am here for it. Having a good set of Torx Keys is essential for any home shop.
The T25 is the most common size used in cycling, and it's worth getting a T25 bit so you can mount and remove rotors with a drill. But, again, I recommend Bondhus wrenches.
Bondhus 31834 Long Length Star-Tipped L-Wrenches
0
Perfect for mountain biking, these Bondhus star-tipped tools have precision machined ends that provide full engagement. Includes sides: T9-T40.
Check price at Amazon
Links may earn us a small commission at no cost to you.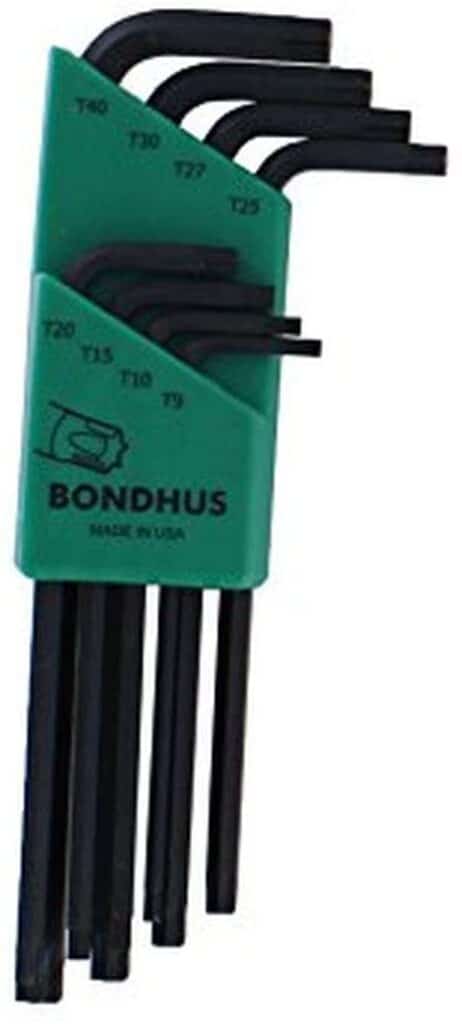 You can extend the life of your drivetrain enormously by replacing your chain at regular intervals. These days you'll mostly use your chain tool when cutting your new chain to length, but it's still an indispensable tool. The full-size chain tools feel nicer in your hand, but the advent of quick links means you won't use them frequently. The chain tool I recommend is the Park Tool CT-5 mini-chain tool. It's compatible with everything and is small enough to put in your pack for huge backcountry rides.
Park Tool CT-5 Mini Chain Brute Chain Tool
0
Park Tool chain tool is an indispensable tool. Extend the life of your drivetrain by replacing your chain at regular intervals. Compatible with 1/8" single-speed and 5 to 12-speed derailleur chain.
Check price at Amazon
Links may earn us a small commission at no cost to you.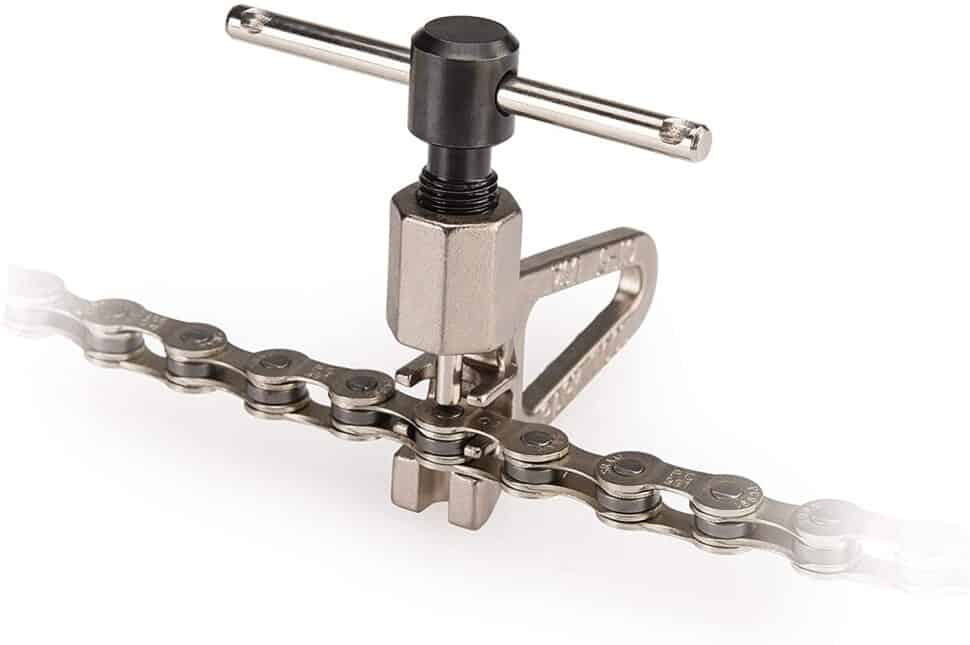 A tool I use all the time is my quick link pliers. I find it easiest to deep clean my chain off my bike. So I'll take off my chain every few weeks for my cleaning process. Of course, you can use some twine in a pinch, but for ease of use, I recommend some quick link pliers like these from Pedro's.
Pedro's Quick Link Pliers Yellow/Black
0
When you need to deep clean your mountain bike chain, this is the tool that will save you loads of time. Easily pop off and on your chain links with Pedro's Quick Link Pliers.
Check price at Amazon
Links may earn us a small commission at no cost to you.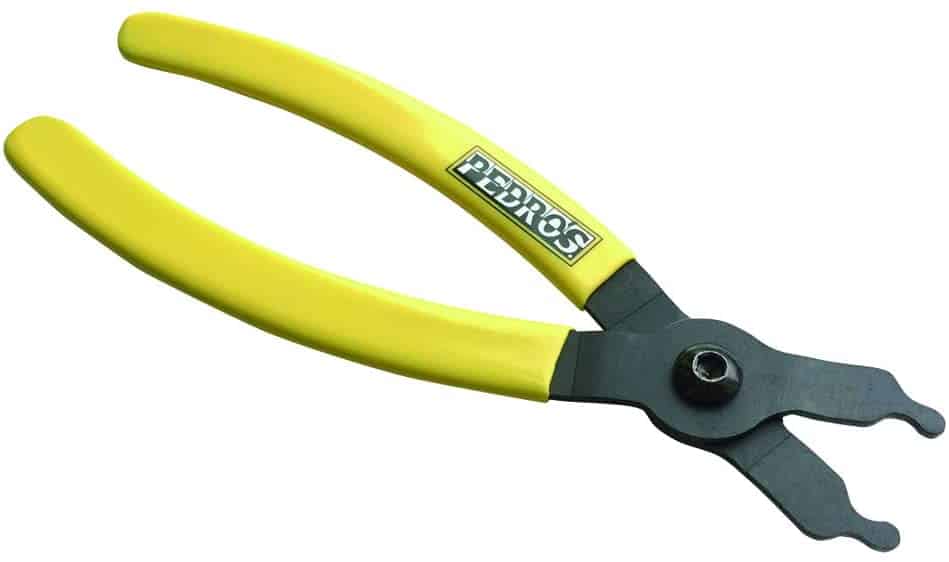 A good set of cable cutters is worth every dollar. It's a joy to use cleanly cut cables and open housing. To be really pro, grind the ends flush on a belt sander or bench grinder.

You'll need all of these consumables to maintain your bikes effectively.
Degreaser- Simple Green
Grease- Many kinds
Lint Free Rags
Pokey Sticks- old spokes with ground sharp tips.
With just a few quality tools, you can do most of the maintenance on your bike. When you eventually face a task that needs more tools than what I've listed here, it's either an opportunity to buy more tools and learn or support your local shop. A win-win.
What are some of your favorite tools?
Peter Haile
Whether pushing his limits on technical trails, seeing what's around the next corner, or tinkering in his shop; Peter enjoys life to the full. In addition to bikes, he enjoys frame building, graphic design, and math. He lives in Asheville, NC with his wife and son.
Get the email for busy mountain bikers.
Discover the best products + gear, and learn about deals from brands you love.