Tools On The Trail – What Do Mountain Bikers Keep In Their Packs?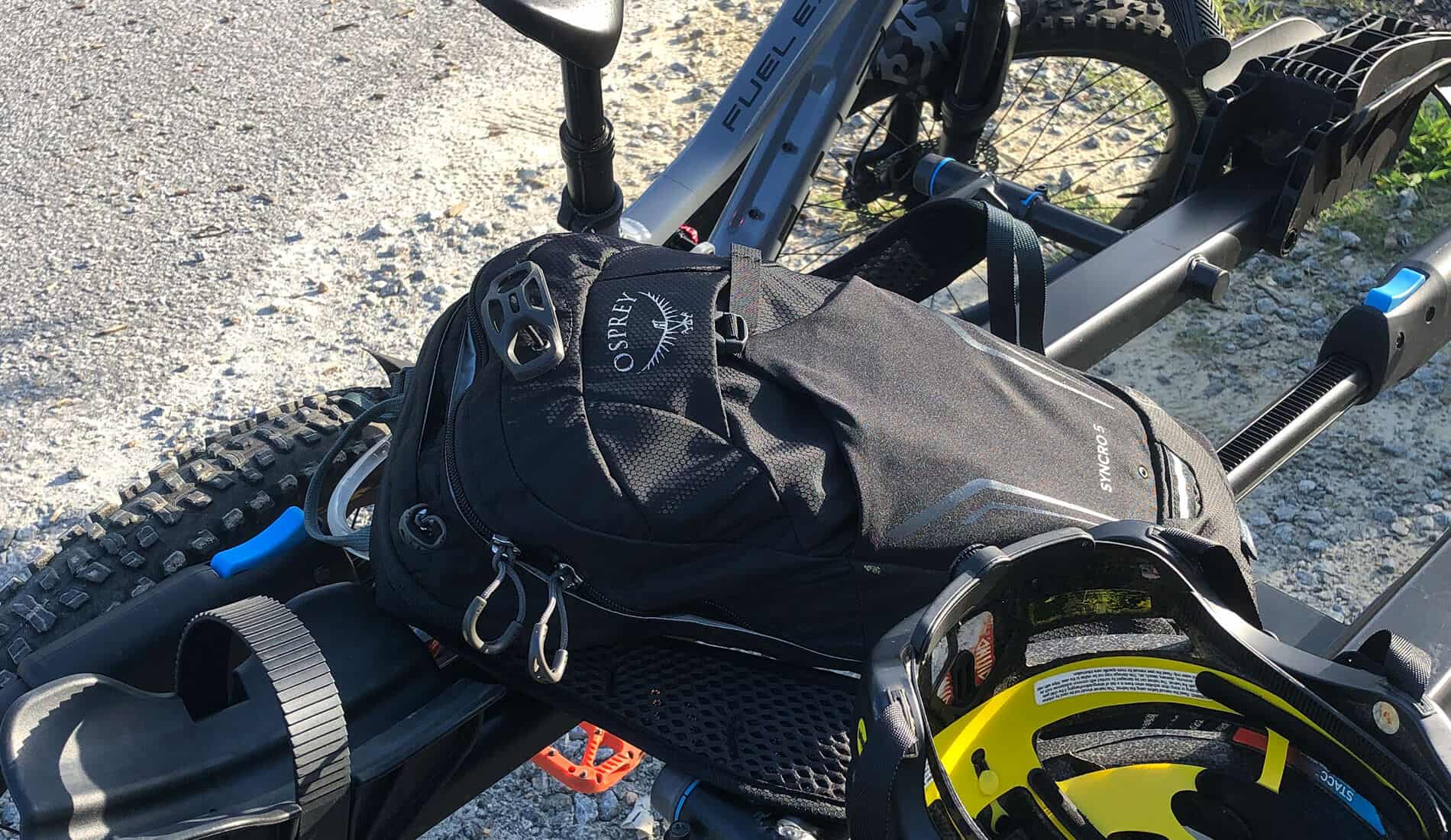 Photo by Mountainly
As I've written in previous posts, I usually don't like carrying a pack while I ride, but sometimes I don't have the choice. I need to bring a pack any time I want to venture far from the trailhead or just wear a t-shirt on my ride instead of a jersey. I despise a heavy backpack on the bike (all that sweat!), so I make sure to only pack essentials when I ride. So what do mountain bikers keep in their packs? Here are the things I deem most important.
The most important item mountain bikers keep in their packs is liquids. This is exponentially compounded as you venture further and further from your car. Many riders opt to bring a bladder, which is a good choice. But be smart about how much you fill it up. I always have a bottle on my frame (old school, I guess). So if I bring a bladder, I usually only fill it up halfway (1-1.5 liters max). I also take Iodine tablets to lessen the risk of riding with such a small amount of water on long rides. I like these Iodine tabs for the trail, mostly because I hate the taste of Iodine (if you like Iodine flavor, then just get the regular tabs!).
I also love to bring a LifeStraw whenever I ride on races or adventures that take me way out. They are light, inexpensive, and easy to use right next to a creek if you get into a jam. Part of hydration is also bringing electrolyte tabs. I would just pop 4-5 in a Ziploc baggie and go. You don't need to bring a whole sleeve.
Repair equipment on the trail is the category with the most variation. Of course, you can quickly fill a whole pack with a mini-bike repair shop, but that's not really the point. The tools I think are most essential include:
Chain-break tool

2 spare tubes and tube changing equipment

Tube patch kit

A quick link for your chain
If you bring anything else, I strongly consider a spare derailleur hanger and maybe even a spare derailleur (especially if you're racing). I have personally snapped about 5 derailleurs off my frame by running over errant sticks, rocks, or bad mojo. There is nothing worse than being 10 miles from the trailhead with no drivetrain. And I mean nothing.
This area has a fine line of essentials if you want to avoid bringing a whole medic's kit with you on your ride. For long rides, I usually pack a variety of bandaids and alcohol wipes. I typically avoid gauze since it takes up so much space, but this is not a bad thing to bring if you are predicting a potentially nasty spill and scrape. The key is to have materials to keep your wounds clean and stop the bleeding, so don't worry about things like Neosporin. Also, I've seen 3 Advil work wonders on the trail. So pack either those or another brand of anti-inflammatories to keep the pain at bay.
I don't love to pack a ton of food on rides. The truth is that you really don't need it. You can fast 24 hours if you need to, so don't worry about packing a massive lunch for a 4-hour ride. For emergencies, I would bring several gels and/or energy chews or bars. Also, electrolyte tablets or chews are a significant game-changer on the trail, so before reaching for a banana, grab a couple of Nuun instead. That's it! Save your appetite for the pizza and beer on the way home, and save yourself some weight on the ride. Who wants to eat a back-sweat sandwich on the trail anyway?
The materials you put in your pack will eventually define what kind of rider you want to be. That being said, there's no perfect pack out there. It all depends on the type of rider you are, what time of day/year you are riding, and if you like minimalism or luxury on the ride. The golden rule to keep in mind is what you will feel like if you don't have an item on the trail. Chances are you won't miss that extra liter of water, but you may really regret not having your SRAM PowerLock quick link. So be smart about packing, check to make sure you have everything you often need, and roll with it.
Matthew Chisholm
Matt Chisholm is a data analyst and freelance writer who studies the environmental history of the Southern Smoky Mountain region of North Carolina. He was a contributor to Lost in Transition: Removing, Resettling, and Renewing Appalachia and the 2016 edition of the Journal of East Tennessee History, for which he won the 2017 McClung Award. When not writing, Matt enjoys road and mountain biking, hiking, trail running, and drinking beer around Concord, NC where he lives with his wife, daughter, and twin boys.
Get the email for busy mountain bikers.
Discover the best products + gear, and learn about deals from brands you love.